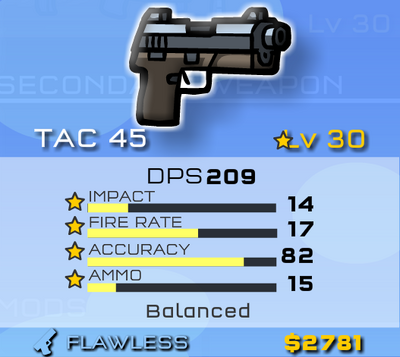 The
TAC 45
is a sidearm
Pistol
. Its custom version is
45 Tactical
.
Description
It's a starter weapon and default for all classes that can use a pistol. This pistol is an all-rounder, having a little bit of everything. It is quite impressive for a starter pistol, but it should later be replaced as your heroes get more experienced.
Trivia
It is the first secondary weapon to be used in the game.
It seems to be the spiritual successor of the USP in the SFH series.
Ad blocker interference detected!
Wikia is a free-to-use site that makes money from advertising. We have a modified experience for viewers using ad blockers

Wikia is not accessible if you've made further modifications. Remove the custom ad blocker rule(s) and the page will load as expected.