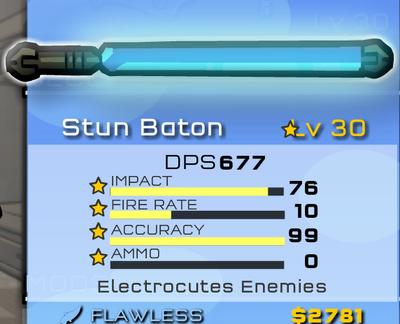 Stun Baton is a secondary Blade weapon.
Description
Stun Baton is an unique blade because it has status effect ability, unlike others. It electrocutes enemies automatically.
Tips
The Electricity effect is useful, since then you can finish of the enemy quicker. (electrocuted enemies take +10% damage) However, the damage isn't really strong, and the swinging speed is quite slow. Once the enemy is hit, use your Primary weapon to finish them off.
Trivia
Stun Baton looks almost identical to blue Lightsaber from Star Wars franchise.
Ad blocker interference detected!
Wikia is a free-to-use site that makes money from advertising. We have a modified experience for viewers using ad blockers

Wikia is not accessible if you've made further modifications. Remove the custom ad blocker rule(s) and the page will load as expected.