Reverse Perfection is the second side mission. It is a Gun Game, but reverse.
Setting
It is played on
Street
map as every other side mission.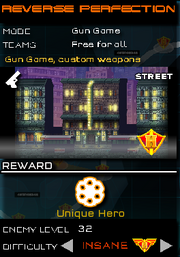 Description
Reverse Perfection is reverse mode of Gun Game, played with one soldier. Unlike ordinary Gun Game which gives you a stronger weapon after scoring a kill, reverse Gun Game gives you weaker. All weapons in the match are custom, except Deadly Shurikens and Betsy, which are killstreaks, and Golden Betsy which is the golden version of normal Betsy.
Rewards
Insane Mode (Level 32) - Calamity