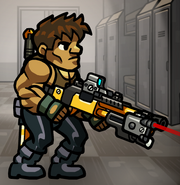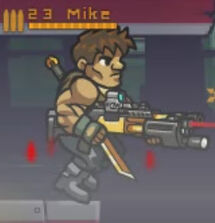 Mike
is an enemy
Mercenary
and one of the two bosses of the game along with
Justin
.
Gameplay
Mike is GlobeX's most powerful clone along with Justin, who are supposed to be unstoppable. The player fights against Mike in the final mission, Devs De La Muerte. He uses custom Defriender shotgun and Hattori Hanzo, the custom version of Katana, as the secondary weapon.  Although he is a Mercenary, him and Justin use killstreaks of other classes. His normal killstreak is Rocket Sentry. Also, shotguns normally can't be used by Mercenaries.
Special abilities
Like Justin, Mike uses unlimited killstreaks of other classes, which he changes as player scores more kills.
Those unlimited killstreaks he uses are: (in order)
And finally, all these classes mixed as his True Form.
When player defeats him and Justin, they can be seen lying dead on the floor of the Street covered in blood. That cutscene indicates fall of GlobeX clones.
Quotes
"We're taking damage, Defensive Stance!" - Activating the "I'm the Juggernaut" killstreak
"I'm in pain, here comes the Heal Train!" - Activating the "Rapid Regen" killstreak
"Time for our TRUE FORMS!" - activating all abilities at once
Trivia
Mike's name and appearance are reference to Mike Sleva, the developer and artist of Sky9 games.
His appearance and face design are unique and can't be found in normal heroes.
His Defriender shotgun has seemingly infinite range.
Ad blocker interference detected!
Wikia is a free-to-use site that makes money from advertising. We have a modified experience for viewers using ad blockers

Wikia is not accessible if you've made further modifications. Remove the custom ad blocker rule(s) and the page will load as expected.