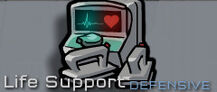 Life Support is 
a defensive 
Equipment
 item.
Effect
Fatal attacks reduce your health to 1 HP, instead of killing you. It works same as the Adrenaline Defensive Upgrade.
Combined with Repair Bots defensive upgrade, this equipment can save you and quickly heal you from many attacks.
Trivia
Before V20.8, Life Support contained a glitch. When a character was at Critical status (tired) it'll have 1 HP, it would make it immortal.
Ad blocker interference detected!
Wikia is a free-to-use site that makes money from advertising. We have a modified experience for viewers using ad blockers

Wikia is not accessible if you've made further modifications. Remove the custom ad blocker rule(s) and the page will load as expected.