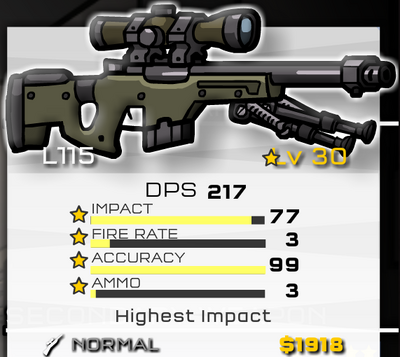 L115 is a Sniper weapon.
Description
The L115 is the strongest sniper of the game and can easily one shot the majority of the class. The only disavantage of the L115 is that it doesn't have a lot of ammo. It's custom version is the AWP.
Trivia
The L115A3 AWM in real life is the best long range rifle in the world.Using .338 lap mag ammo,this weapon can shoot at 1500m with great accuracy and high penetration
This gun is very light weight.338 rifle (7kg)
Ad blocker interference detected!
Wikia is a free-to-use site that makes money from advertising. We have a modified experience for viewers using ad blockers

Wikia is not accessible if you've made further modifications. Remove the custom ad blocker rule(s) and the page will load as expected.