The Jericho is a custom pistol and the custom version of the Desert Eagle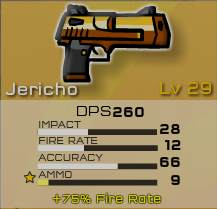 Description
The Jericho is a powerful pistol and has a 75% better fire rate then the Desert Eagle.
It has average accuracy for a pistol, like the Desert Eagle. Licence To Kill is better there, but the greatest rate of fire of all pistols, which are usually slow, makes up for everything. It's a greatly improved pistol with high bonus, like all other pistols.
Tips
If you know how to use it fast enough you can use this as a great offensive weapon. It is a good backup for all types of weapons but mostly Machine Guns (for Medic, cause Mercenaries can't use pistols unfortunately). It can also backup some Explosives.
Using a hair trigger with the Jericho can make it even better for offense.
Trivial
Jericho is different gun In real life. (IWI Jericho 941, or the Baby Eagle)
Ad blocker interference detected!
Wikia is a free-to-use site that makes money from advertising. We have a modified experience for viewers using ad blockers

Wikia is not accessible if you've made further modifications. Remove the custom ad blocker rule(s) and the page will load as expected.