nothing to see her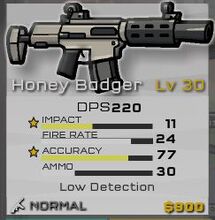 Trivia
The TAC 45 is the only other weapon available at the start of the game.
The Honey Badger is based on the real-life AAC Honey Badger, a personal defense weapon adopted as a replacement to the MP5K by U.S Special Forces.
The Honey Badger has an integrated suppressor, which is most likely where its low detection comes from.