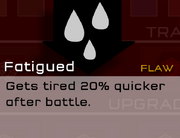 Fatigued is a flaw.
Fatigued makes the hero get tired 20% quicker after successful battle. This also applies with injuried and critical states. This flaw can often be annoying because the soldier can't win much battles in a row without becoming tired. Heroes can be rested by winning quick-matches with other heroes quick, but the quickest way to fix this is Energized utility upgrade.
Tower, the unique Juggernaut has this flaw.
Ad blocker interference detected!
Wikia is a free-to-use site that makes money from advertising. We have a modified experience for viewers using ad blockers

Wikia is not accessible if you've made further modifications. Remove the custom ad blocker rule(s) and the page will load as expected.