Explosive Temper is one of the Mercenary's three traits.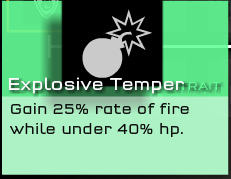 It increases rate of fire by 25% when the mercenary is under 40% of his health. When it takes effect, the mercenary will glow in yellow, which indicates that the RoF is increased.
This trait is used by Dex. Also, Rusty's trait in the first upgrade column (he uses traits for upgrades instead of skills).