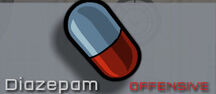 Diazepam 
is an offensive 
Equipment
 item.
Effect
Diazepam fixes your accuracy. With it, the accuracy is not reduced by firing. Use it with classes that have strong firepower.
Trivia
It has same effect as Iron Grip offensive upgrade. This upgrade is used by Wesley and Nathan, both Engineers.
Diazepam is also a chemical in real life.
Ad blocker interference detected!
Wikia is a free-to-use site that makes money from advertising. We have a modified experience for viewers using ad blockers

Wikia is not accessible if you've made further modifications. Remove the custom ad blocker rule(s) and the page will load as expected.