The Desert Eagle is a Pistol weapon in the game. Its custom version is the Jericho.
Description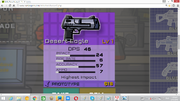 The Desert Eagle is a pistol that focuses on brute power. The game defines it to have the highest impact. However, the RoF is quite slow. This flaw is diminished by its custom version, though. It is recommended to use with Burst Module.
Ad blocker interference detected!
Wikia is a free-to-use site that makes money from advertising. We have a modified experience for viewers using ad blockers

Wikia is not accessible if you've made further modifications. Remove the custom ad blocker rule(s) and the page will load as expected.