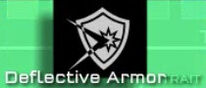 Deflective Armor
is trait by
Juggernaut
.
It has similar effect to I'm The Juggernaut killstreak. This time there is only 8% chance a projectile will be deflected. If it happens, the Juggernaut still takes damage. This doesn't depend on your skill, only luck.
Trivia
Works similar to Ninja's Matrix Dodge. However, this trait is better because the bullet deflects, and if it's an explosive projectile, it can be deadly to enemies.
Tower's armor has this trait.
Ad blocker interference detected!
Wikia is a free-to-use site that makes money from advertising. We have a modified experience for viewers using ad blockers

Wikia is not accessible if you've made further modifications. Remove the custom ad blocker rule(s) and the page will load as expected.